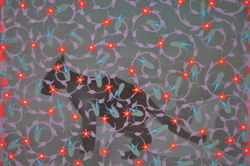 The Umm al-Fahm Art Gallery was established on April 10,1996 on the initiative of local residents and artists who wanted to bring quality contemporary art to the city and its population,and to exhibit original Arab and Palestinian art.
The gallery operates under the auspices of the El-Sabar Association, founded four years ago, with a membership that includes intellectual and cultural figures from the entire area of Wadi Ara.
The gallery's major aim has been to enable Arab and Jewish artists to express their cultures. This is a complex process, given the divided reality of the times.The gallery operates in a region whose identity is Arabic, and whose residents are citizens of the State of Israel. It struggles constantly with the need to maintain its secularism within religious surroundings, as well as for the attention of a Jewish audience that has not yet faced up to the divided reality.
With the lack of any other art galleries in the Arab sector in Israel, Umm al-Fahm has become a focal point for encounters between artists from different sectors and fields of creative activity and the general public, as well as between local and international artists.
              Dear Friends

During the last few months, the staff at the Gallery has dedicated efforts to introduce the new website of the Art gallery of Umm el Fahem with a purpose to reflect the activities of the last few years and in particulasr our plans for the future. On this website you can follow the educational, cultural and social activities which took place in the gallery in addition to the vision of the establishment of the museum and all future activities which will contribute to fufill this dream. We are proud to advise you, that the new website is already in the air and that everyone of you is invited to visit the site and to write your comments.
A lot of work has been done, however, it is quite possible that you will encounter technical problems or situations, which may ask for correction. Hence lease do not hesistate to be creative and to contact us or write.
We tust, that you will enjoy the contents of the new site, it's volume and the variety of activities, which have been developed in this important venue.
http://www.umelfahemgallery.org/
Yours with kind regards,
Said Abu Shakra Director of the Art Gallery of Umm el Fahm